DR FARAH WAHIDA SUHAIMI TRIUMPHS WITH YOUNG INVESTIGATOR AWARD AT IABS 2022 CONFERENCE
Dr. Farah Wahida Suhaimi, a dedicated scientist from the Centre for Drug Research (CDR) at Universiti Sains Malaysia (USM), has earned the Young Investigator Award at the 3rd International Anatomical and Biomedical Scientific Conference (IABS 2022). Her groundbreaking research, presented under the title "Adolescent Kratom Exposure: Behavioural and Metabolic Analyses," has drawn attention and praise for its innovative approach and significant findings.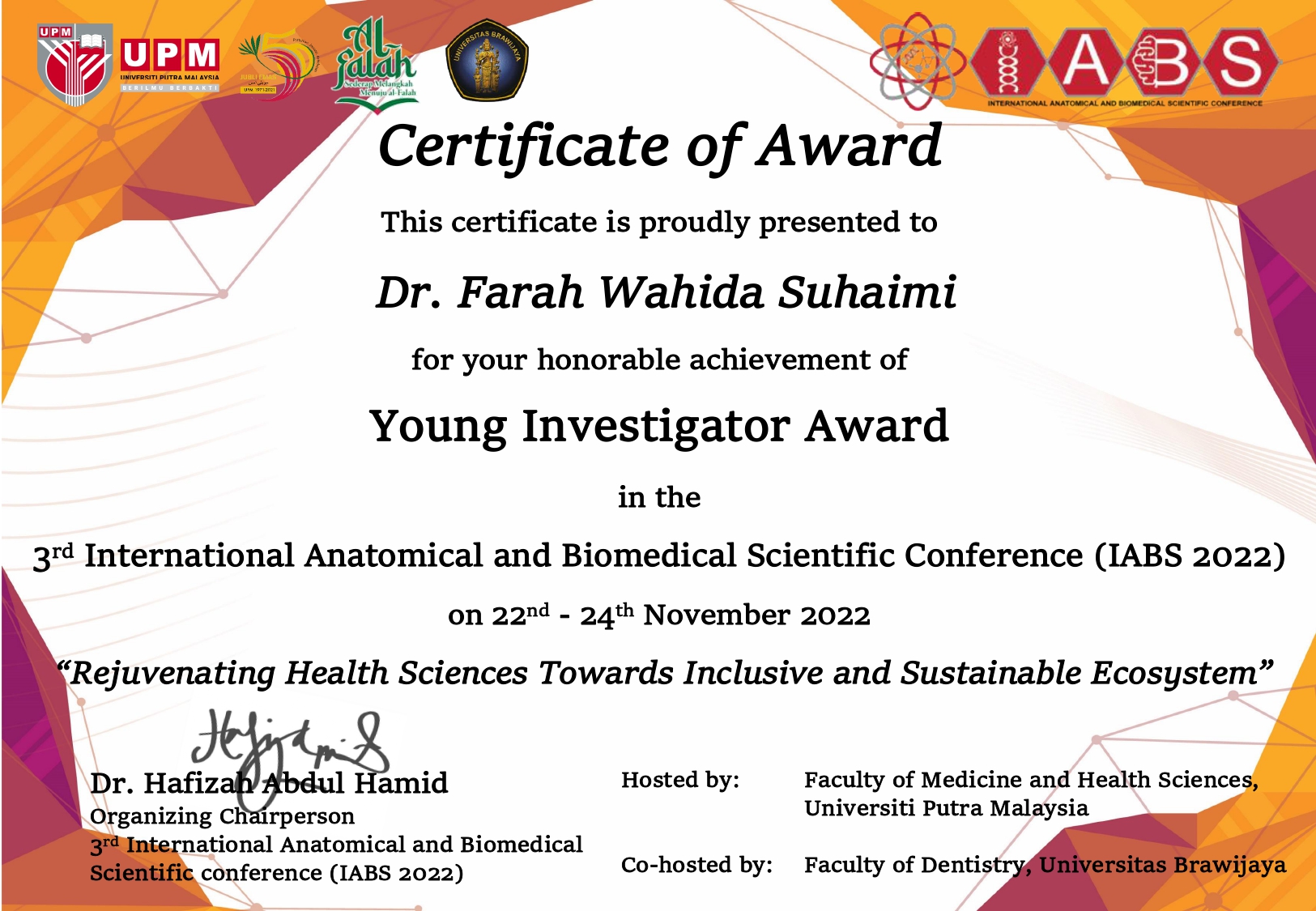 Held virtually on 22nd – 24th November 2022 due to ongoing global health concerns, the IABS 2022 conference organised by Universiti Putra Malaysia brought together international researchers and academics to share the latest advancements and discoveries in the fields of anatomy and biomedical sciences. The Young Investigator Award, a highly sought-after accolade, recognises the exceptional achievements and contributions of early-career researchers who have made significant advancements in their respective fields.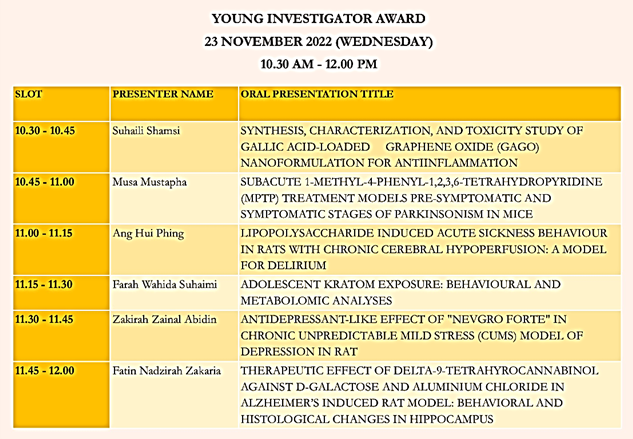 Dr. Farah's award-winning research delves into the controversial topic of adolescent kratom exposure. Kratom, a tropical evergreen tree native to Southeast Asia, has been the focus of numerous studies in recent years due to its complex pharmacological properties. While it has been used traditionally for its stimulant and analgesic effects, concerns have been raised regarding its potential for misuse and addiction.
In her groundbreaking study, Dr. Farah investigated the effects of kratom exposure on adolescent behaviour and metabolism. Utilising a comprehensive array of behavioural tests and metabolic analyses, her research revealed valuable insights into the potential consequences of kratom use during adolescence, a critical period of development. The study's findings have important implications for public health policy and add a new dimension to the ongoing debate surrounding the regulation and potential therapeutic uses of kratom.
As a scientist at the CDR USM, Dr. Farah's work focuses on understanding the complex interplay between drugs and the human body, with an emphasis on the development of safer and more effective treatments. Dr. Farah's achievement serves as a testament to the outstanding research capabilities and dedication of scientists from the CDR USM. As the scientific community continues to grapple with the challenges posed by new and emerging substances like kratom, researchers like Dr. Farah will undoubtedly play a crucial role in shaping our understanding and informing public policy.
The CDR community extends its warmest congratulations to Dr. Farah on her well-deserved Young Investigator Award and eagerly anticipates the future contributions she will make to the field of drug research.